In Memory & Honor of Edward James Eliot (1758-1797)
". . . the Rt. Hon. E.J. Eliot, the beloved and accomplished brother-in-law of Mr. Pitt, whose high station and great prospects, combined with talents consecrated to the cause of God, rendered his premature decease, not long after, a loss to be deplored by the church of Christ."

My research of the Eliot family began when I tried to find photos of the graves of the Clapham Sect members. It was simple enough, but the burial place of Edward James Eliot of Port Eliot eluded me. He was the best friend of both William Pitt and William Wilberforce, and his early death left a great void in their personal lives and political-reform circles. Sadly, Eliot's memory has been relegated over the years to brief mentions which belie the love and respect felt by so many for this "gentle character", his burial at St. German's Church long-forgotten.

This website is the culmination of many years of research into the history of the Eliot family of Port Eliot, offered as a tribute to a remarkable Christian man who should not be forgotten.

As for the Saints who are in the earth,
they are the majestic ones in whom is all my delight.
Psalm 16:3

My history of this great family would not have been possible without the help and approval of Lord St. Germans, 10th Earl. He bore my incessant nagging and lists of questions with the patience of a modern-day Job. His keen willingness to make this information freely available to the public has made this website possible.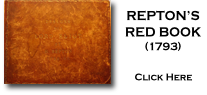 Humphry Repton's Red Book has been kept by the Eliot family, handed down, generation after generation, as an almost sacred family heirloom. Thanks to Lord St. Germans (Peregrine, 10th Earl), the Port Eliot Red Book is shown here in its entirety.

Click Here to Page Through the Port Eliot Red Book