Ernest Cornwallis Eliot (1831 - 1832)
Individual Report for Ernest Eliot.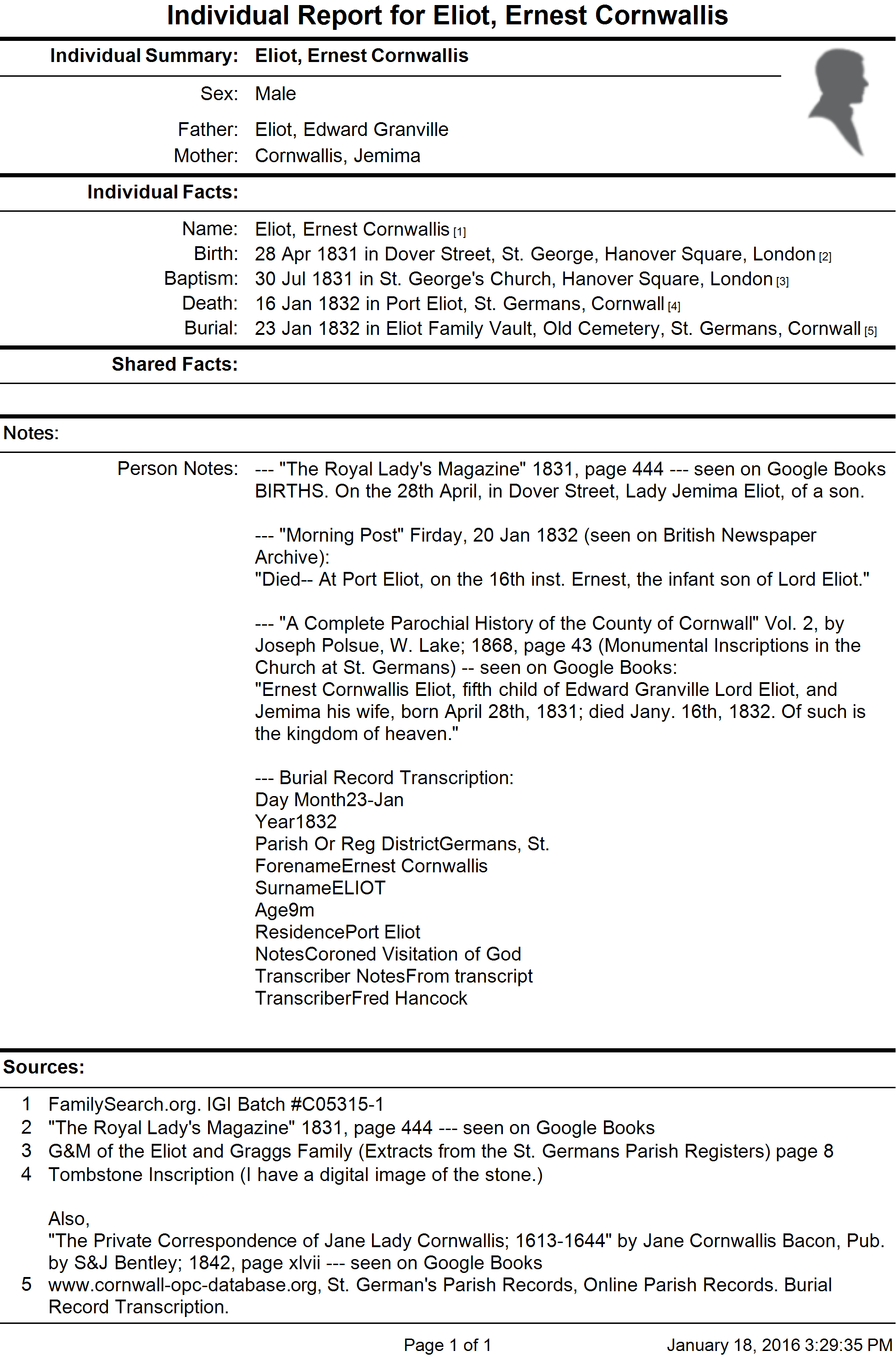 Sex: Male
Father: Edward Granville Eliot, 3rd Earl of St. Germans
Mother: Jemima Cornwallis

Individual Facts:
Birth: 28 Apr 1831 in Dover Street, St. George, Hanover Square, London [2]
Baptism: 30 Jul 1831 in St. George's Church, Hanover Square, London [3]
Death: 16 Jan 1832 in Port Eliot, St. Germans, Cornwall [4]
Burial: 23 Jan 1832 in Eliot Vault, Old Cemetery, St. Germans, Cornwall [5]

Notes:
Person Notes:
— "The Royal Lady's Magazine" 1831, page 444:
BIRTHS. On the 28th April, in Dover Street, Lady Jemima Eliot, of a son.

— "Morning Post" Firday, 20 Jan 1832: "Died- - At Port Eliot, on the 16th inst. Ernest, the infant son of Lord Eliot."

— "A Complete Parochial History of the County of Cornwall" Vol. 2, by Joseph Polsue, W. Lake; 1868, page 43 (Monumental Inscriptions in the Church at St. Germans):
"Ernest Cornwallis Eliot, fifth child of Edward Granville Lord Eliot, and Jemima his wife, born April 28th, 1831; died Jany. 16th, 1832. Of such is the kingdom of heaven."

— Burial record notes cause of death as "Visitation of God".

Sources:
1 FamilySearch.org. IGI Batch #C05315-1
2 "The Royal Lady's Magazine" 1831, page 444
3 G&M of the Eliot and Graggs Family (Extracts from the St. Germans Parish Registers) page 8
4 Tombstone Inscription
also, "The Private Correspondence of Jane Lady Cornwallis; 1613-1644" by Jane Cornwallis Bacon, Pub. by S&J Bentley; 1842, page xlvii
5 www.cornwall-opc-database.org, St. German's Parish Records, Online Parish Records. Burial Record Transcription.