Frances Helen Mary Eliot (1943 - 2004)
Individual Report for Frances Helen Mary Eliot.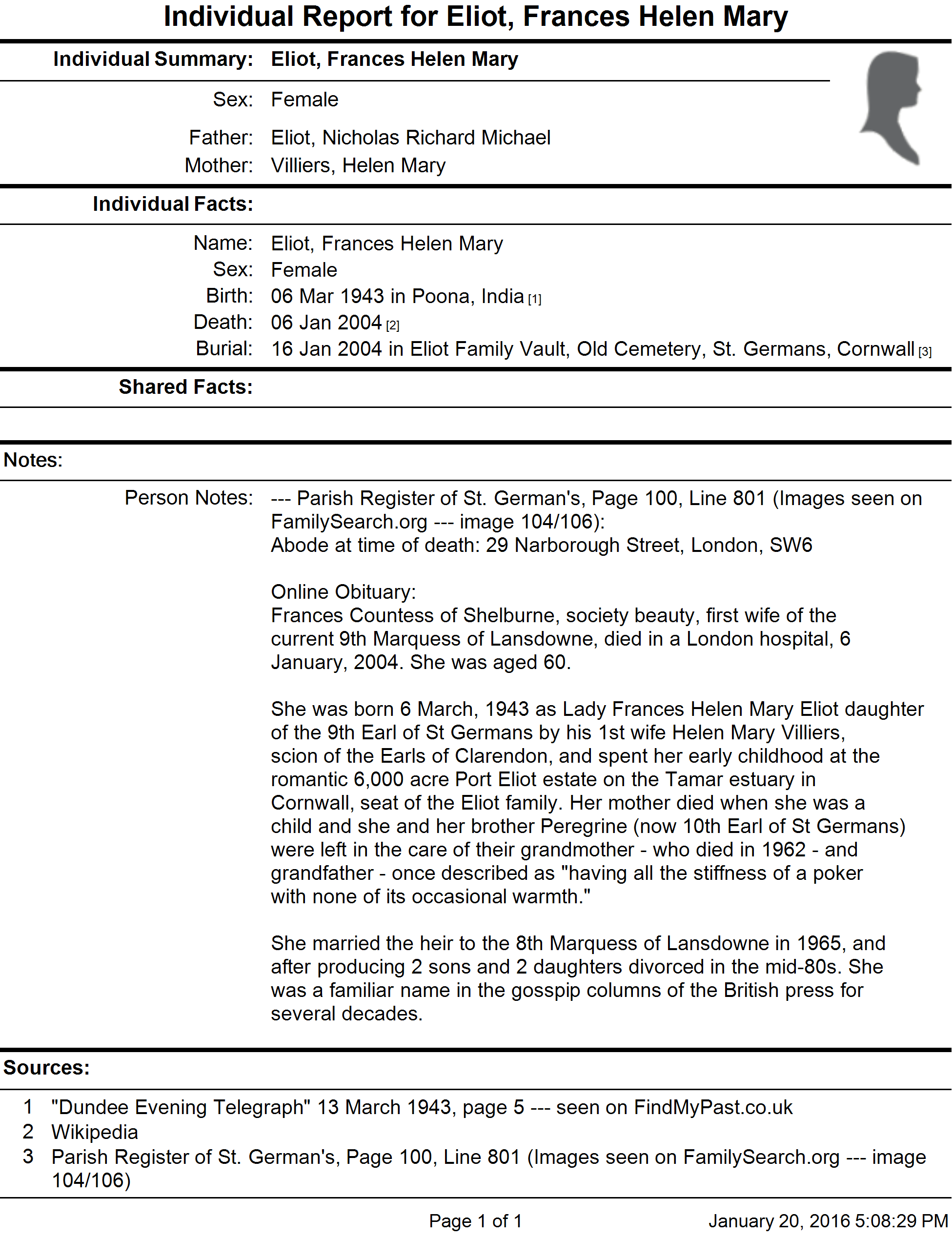 Sex: Female
Father: Nicholas Eliot, 9th Earl of St. Germans
Mother: Helen Mary Villiers

Individual Facts:
Birth: 06 Mar 1943 in Poona, India [1]
Death: 06 Jan 2004 [2]
Burial: 16 Jan 2004 in Eliot Vault, Old Cemetery, St. Germans, Cornwall [3]

Person Notes:
— Parish Register of St. German's, Page 100, Line 801:
Abode at time of death: 29 Narborough Street, London, SW6

— Online Obituary:
Frances Countess of Shelburne, society beauty, first wife of the current 9th Marquess of Lansdowne, died in a London hospital, 6 January, 2004. She was aged 60.

She was born 6 March, 1943 as Lady Frances Helen Mary Eliot daughter of the 9th Earl of St Germans by his 1st wife Helen Mary Villiers, scion of the Earls of Clarendon, and spent her early childhood at the romantic 6,000 acre Port Eliot estate on the Tamar estuary in Cornwall, seat of the Eliot family. Her mother died when she was a child and she and her brother Peregrine (now 10th Earl of St Germans) were left in the care of their grandmother - who died in 1962 - and grandfather - once described as "having all the stiffness of a poker with none of its occasional warmth."

She married the heir to the 8th Marquess of Lansdowne in 1965, and after producing 2 sons and 2 daughters divorced in the mid-80s. She was a familiar name in the gosspip columns of the British press for several decades.

Sources:
1 "Dundee Evening Telegraph" 13 March 1943, page 5
2 Wikipedia
3 Parish Register of St. German's, Page 100, Line 801 (Images seen on FamilySearch.org --- image 104/106)