Susanna Coryton (1692/3 - 1713/14)
Individual Report for Susanna Coryton.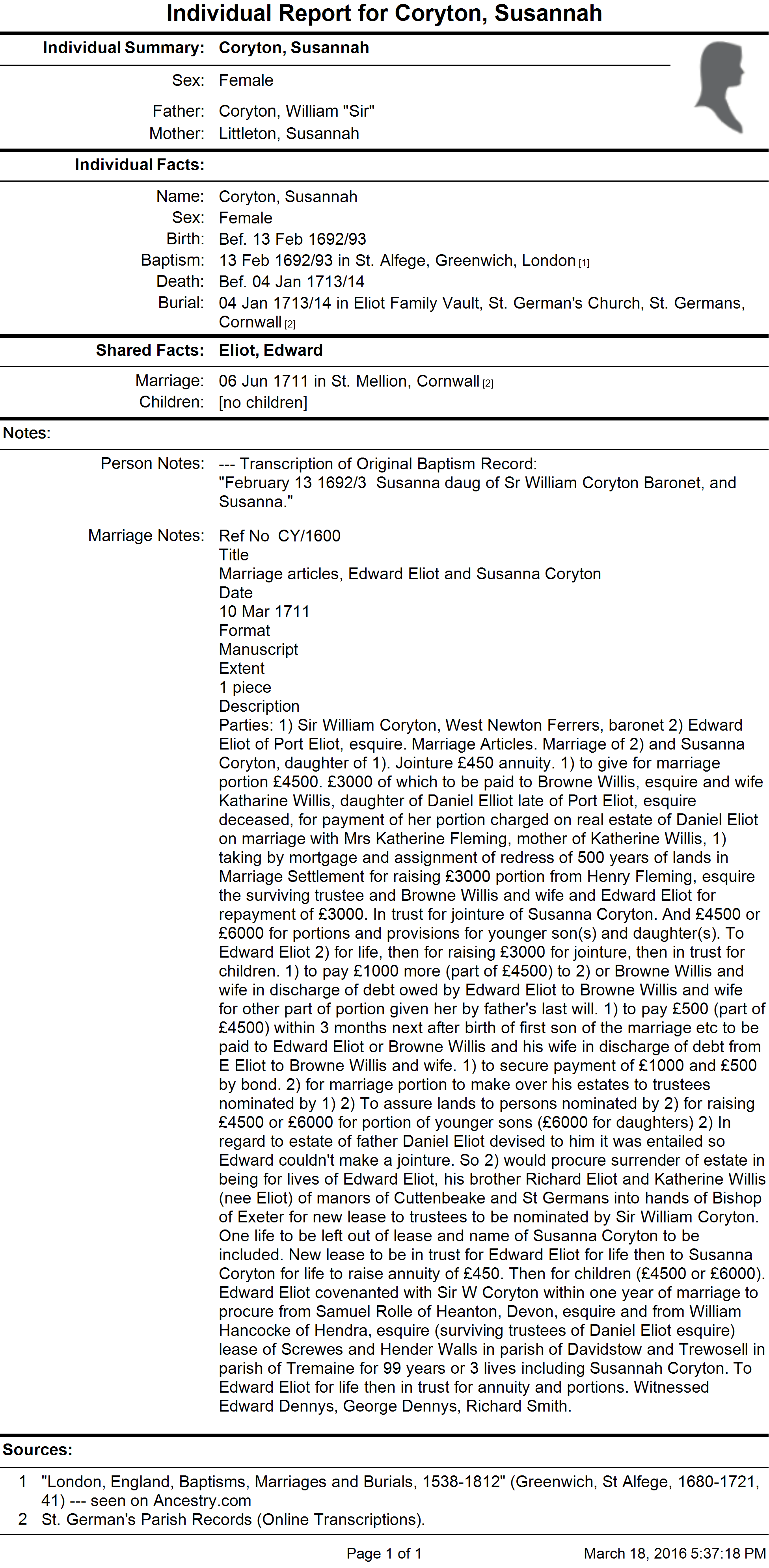 Sex: Female
Father: Sir William Coryton
Mother: Susanna Littleton

Individual Facts:
Birth: Bef. 13 Feb 1692/93
Baptism: 13 Feb 1692/93 in St. Alfege, Greenwich, London [1]
Death: Bef. 04 Jan 1713/14
Burial: 04 Jan 1713/14 in Eliot Vault, St. German's Church, St. Germans, Cornwall [2]

Spouse: Edward Eliot
Marriage: 06 Jun 1711 in St. Mellion, Cornwall [2]

(No Children)

Person Notes:
— Transcription of Original Baptism Record:
"February 13 1692/3 Susanna daug of Sr William Coryton Baronet, and Susanna"

Marriage Notes:
— Cornwall Record Office Catalog Entry:
Ref No: CY/1600
Title: Marriage articles, Edward Eliot and Susanna Coryton
Date: 10 Mar 1711
Description:
Parties: 1) Sir William Coryton, West Newton Ferrers, baronet 2) Edward Eliot of Port Eliot, esquire. Marriage Articles. Marriage of 2) and Susanna Coryton, daughter of 1). Jointure £450 annuity. 1) to give for marriage portion £4500. £3000 of which to be paid to Browne Willis, esquire and wife Katharine Willis, daughter of Daniel Elliot late of Port Eliot, esquire deceased, for payment of her portion charged on real estate of Daniel Eliot on marriage with Mrs Katherine Fleming, mother of Katherine Willis, 1) taking by mortgage and assignment of redress of 500 years of lands in Marriage Settlement for raising £3000 portion from Henry Fleming, esquire the surviving trustee and Browne Willis and wife and Edward Eliot for repayment of £3000. In trust for jointure of Susanna Coryton. And £4500 or £6000 for portions and provisions for younger son(s) and daughter(s). To Edward Eliot 2) for life, then for raising £3000 for jointure, then in trust for children. 1) to pay £1000 more (part of £4500) to 2) or Browne Willis and wife in discharge of debt owed by Edward Eliot to Browne Willis and wife for other part of portion given her by father's last will. 1) to pay £500 (part of £4500) within 3 months next after birth of first son of the marriage etc to be paid to Edward Eliot or Browne Willis and his wife in discharge of debt from E Eliot to Browne Willis and wife. 1) to secure payment of £1000 and £500 by bond. 2) for marriage portion to make over his estates to trustees nominated by 1) 2) To assure lands to persons nominated by 2) for raising £4500 or £6000 for portion of younger sons (£6000 for daughters) 2) In regard to estate of father Daniel Eliot devised to him it was entailed so Edward couldn't make a jointure. So 2) would procure surrender of estate in being for lives of Edward Eliot, his brother Richard Eliot and Katherine Willis (nee Eliot) of manors of Cuttenbeake and St Germans into hands of Bishop of Exeter for new lease to trustees to be nominated by Sir William Coryton. One life to be left out of lease and name of Susanna Coryton to be included. New lease to be in trust for Edward Eliot for life then to Susanna Coryton for life to raise annuity of £450. Then for children (£4500 or £6000). Edward Eliot covenanted with Sir W Coryton within one year of marriage to procure from Samuel Rolle of Heanton, Devon, esquire and from William Hancocke of Hendra, esquire (surviving trustees of Daniel Eliot esquire) lease of Screwes and Hender Walls in parish of Davidstow and Trewosell in parish of Tremaine for 99 years or 3 lives including Susannah Coryton. To Edward Eliot for life then in trust for annuity and portions. Witnessed Edward Dennys, George Dennys, Richard Smith.

Sources:
1 "London, England, Baptisms, Marriages and Burials, 1538-1812" (Greenwich, St Alfege, 1680-1721, 41)
2 St. German's Parish Records (Online Transcriptions)