Ann Williams (? - 1723)
Individual Report for Ann Williams.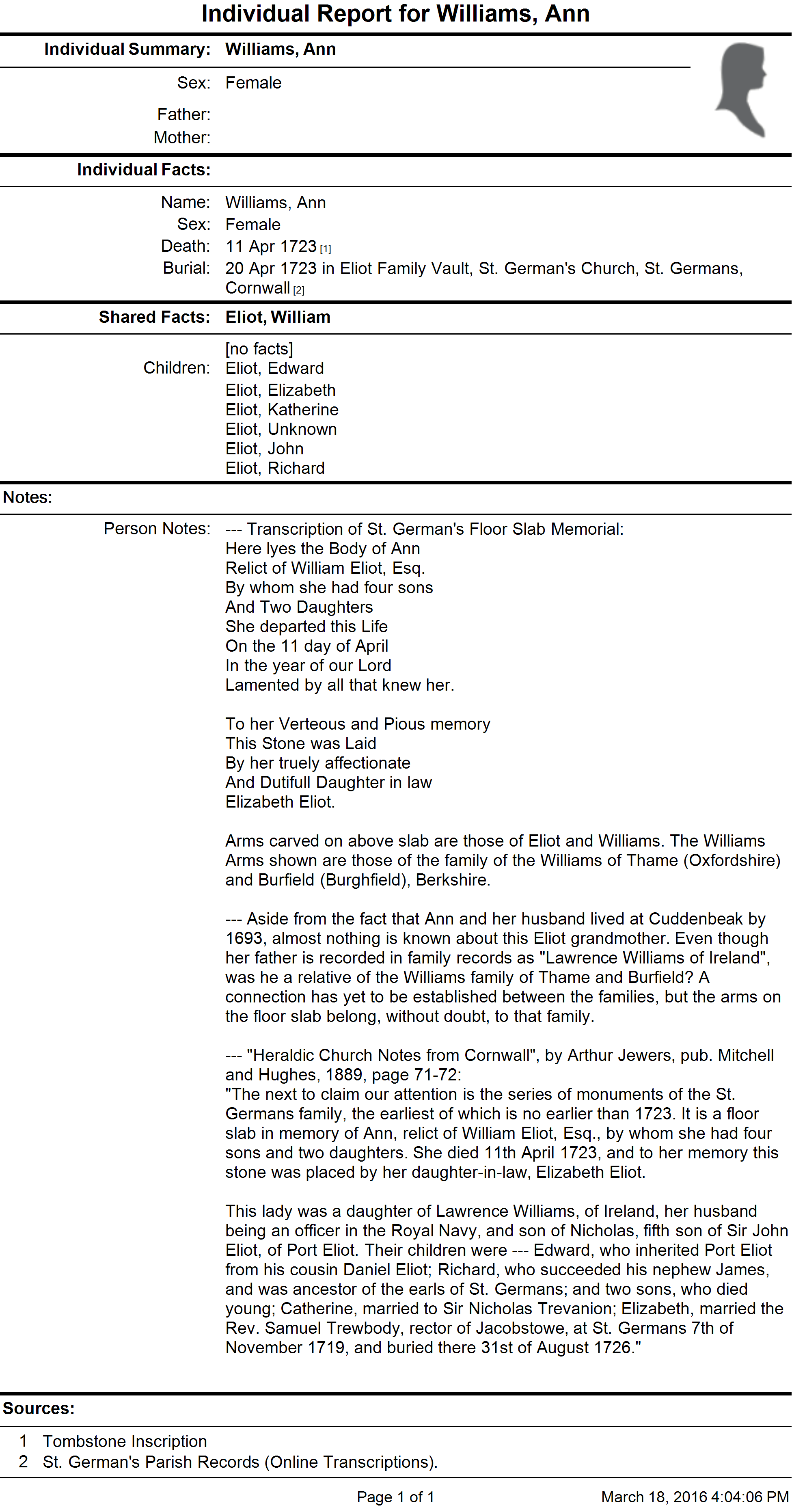 Sex: Female
Father: Lawrence Williams
Mother:

Individual Facts:
Birth:
Death: 11 Apr 1723 [1]
Burial: 20 Apr 1723 in Eliot Vault, St. German's Church, St. Germans, Cornwall

Spouse: William Eliot
Marriage:

Children:
Edward Eliot
Elizabeth Eliot
Katherine Eliot
Unknown Son
John Eliot
Richard Eliot

Person Notes:
— Transcription of St. German's Floor Slab Memorial:
Here lyes the Body of Ann
Relict of William Eliot, Esq.
By whom she had four sons
And Two Daughters
She departed this Life
On the 11 day of April
In the year of our Lord
Lamented by all that knew her.

To her Verteous and Pious memory
This Stone was Laid
By her truely affectionate
And Dutifull Daughter in law
Elizabeth Eliot.

Arms carved on above slab are those of Eliot and Williams. The Williams Arms shown are those of the family of the Williams of Thame (Oxfordshire) and Burfield (Burghfield), Berkshire.

— Aside from the fact that Ann and her husband lived at Cuddenbeak by 1693, almost nothing is known about this Eliot grandmother. Even though her father is recorded in family records as "Lawrence Williams of Ireland", was he a relative of the Williams family of Thame and Burfield? A connection has yet to be established between the families, but the arms on the floor slab belong, without doubt, to that family.

— "Heraldic Church Notes from Cornwall", by Arthur Jewers, 1889, page 71-72:
"The next to claim our attention is the series of monuments of the St. Germans family, the earliest of which is no earlier than 1723. It is a floor slab in memory of Ann, relict of William Eliot, Esq., by whom she had four sons and two daughters. She died 11th April 1723, and to her memory this stone was placed by her daughter-in-law, Elizabeth Eliot. This lady was a daughter of Lawrence Williams, of Ireland, her husband being an officer in the Royal Navy, and son of Nicholas, fifth son of Sir John Eliot, of Port Eliot. Their children were — Edward, who inherited Port Eliot from his cousin Daniel Eliot; Richard, who succeeded his nephew James, and was ancestor of the earls of St. Germans; and two sons, who died young; Catherine, married to Sir Nicholas Trevanion; Elizabeth, married the Rev. Samuel Trewbody, rector of Jacobstowe, at St. Germans 7th of November 1719, and buried there 31st of August 1726."

Sources:
1 Tombstone Inscription
2 St. German's Parish Records (Online Transcriptions).